We do Special Orders
Handguns - target sporting or hunting
We have access to a wide range of brands of semi-auto pistols and revolvers and are willing to do special orders. What ever your interest we are happy to help any gun fanatic. We also carry accessories pistol cases, holsters, shooting glasses, hearing protection cleaning products, ammo storage and much more. For the hand reloaders we stock ADI powder and a range of reloading accessories to get you started to reload your pistol ammo. Call us or email us for price and availability.

For more information on how to acquire a Category H Licence please go to www.police.qld.gov.au
---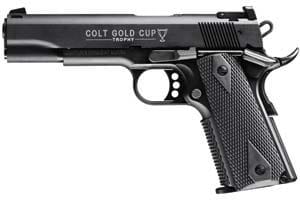 Colt .22LR Rimfire 1911
Standard specs on all models:
Made exclusively under licence by Carl Walther in Germany. The Colt 1911 still defines the standard for modern day semi auto pistols. This series of Colt .22LR Rimfire 1911's has the same look and feel as their .45 "big brothers" but allows you to spend a day at the range for a fraction of the cost. Available in Gold Cup, Rail Gun and Government versions. A great pistol for sports use, primary producer or collector.
| Caliber | Stock | Barrel | Magazine | |
| --- | --- | --- | --- | --- |
| .22LR semi-auto | CNC machined high grad aluminium slide | 5" (127mm) barrel | 1x10 round magazine | |
Contact Us to order.
---

Click on any of the logos below and browse the suppliers website. Please contact us for a price and availability.